Band 8 Sample Answer, The plans below show a public
You should spend about 20 minutes on this task.
The plans below show a public park when it first opened in 1920 and the same park today.
Summarize the information by selecting and reporting the main features, and make comparisons where relevant.
You should write at least 150 words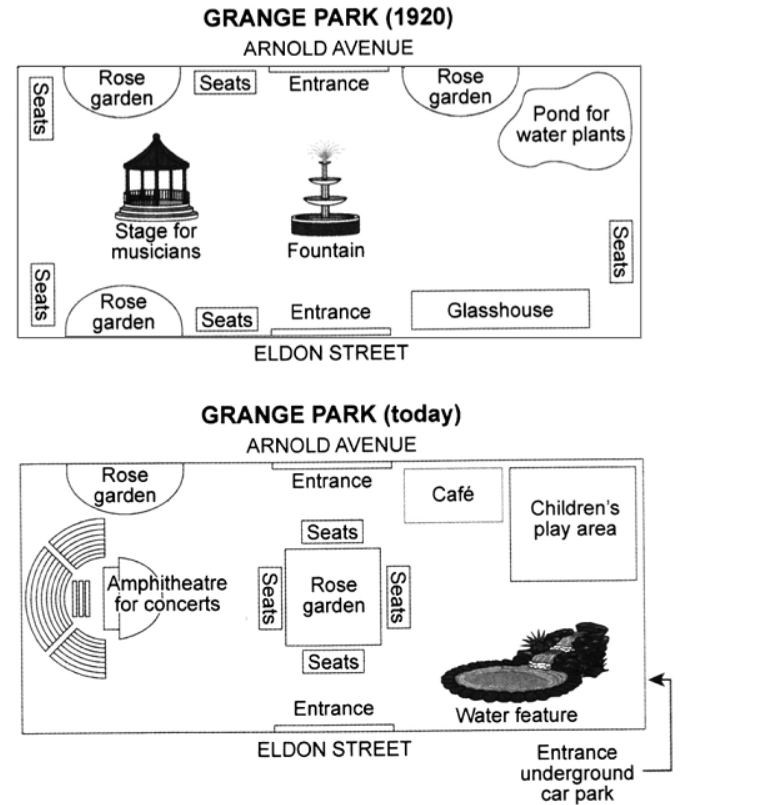 The maps illustrate the main changes that have taken place in Grange Park from 1920 until the present moment. Overall, since 1920, the park has undergone a tremendous number of changes, the main one being the construction of the theatre, play area, cafe and underground car park.
The most striking change is the removal of the fountain, which was found in the center of the park. Instead, a square-shaped rose garden has been constructed along with seating arrangements surrounding it. To the left of the park was the stage for musicians that has been replaced by a bigger amphitheater for concerts. Due to this change, some of the seats as well as one rose garden at the bottom left corner has been removed. However, the two entrances along Eldon Street and Arnold Avenue remained unchanged.
Moreover, a pond for water plants was replaced with a play area for children with a café located to the west of it which has caused the removal of a rose garden. Further, a water feature was erected by demolishing the glasshouse. Besides, the underground car park was built at the extreme right corner. 
Band 8 SAMPLE ANSWER, The plans below show a public park