Band 7.5 Sample Answer, the estimated sales of jeans for
The bar chart below shows the estimated sales of jeans for two companies next year in Turkey.
The pie chart shows the projected market share of the two companies in jeans at the end of next year.
You should spend about 20 minutes on this task.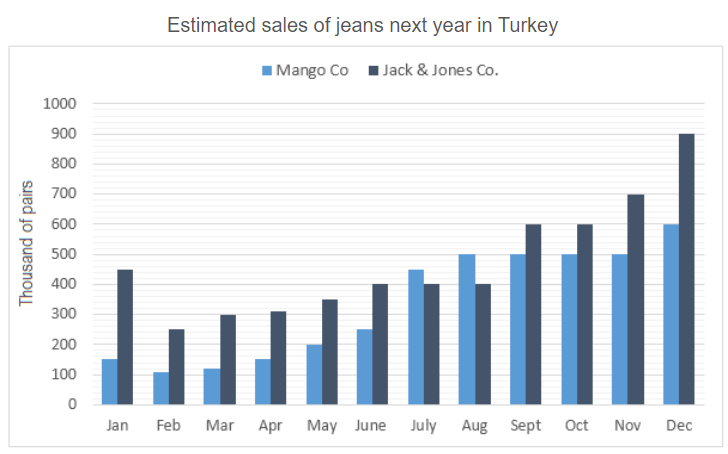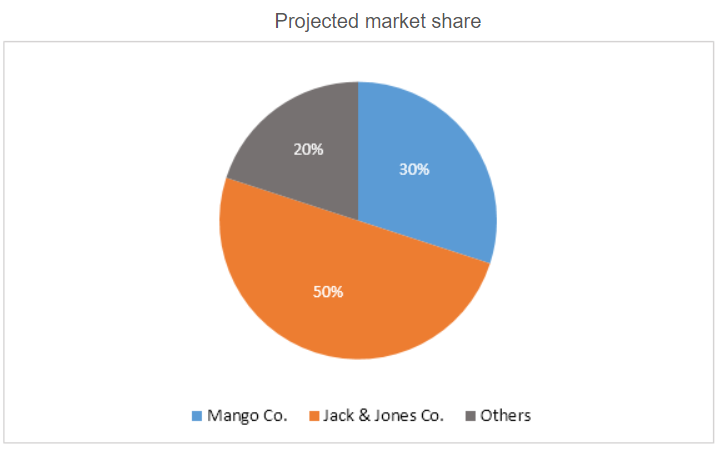 The column graph illustrates the next year's sales in jeans for two different companies in Turkey, while the pie graph compares their estimated market shares at the end of the following year. Overall, the sales for the Jack & Jones brand are projected to be higher than the Mango brand next year except in July and August, and also the majority of the speculated market share is taken over by Jack & Jones.
According to the bar graph, Jack & Jones, which will be the dominant brand, is predicted to sell roughly 450 thousand pairs of jeans in January which is almost three times higher than that of the mango brand. The predicted sales of Jack & Jones jeans would drop rapidly to approximately 250 thousand in February and then the trend will continue to grow substantially until December selling exactly 900 thousand jeans which are almost double that of January's sales. In contrast, the forecast sales of Mango jeans will stay below 300 thousand for the first half of the next year and will rise considerably to 500 thousand in August which will remain the same until December before increasing to 600 thousand in December. 
Half of the market shares will be taken by Jack & Jones Corporation, whereas Mango Company will only get approximately one-third of the share, the remaining will be controlled by other jeans manufacturers.