The plans below show a public park when it first opened in 1920 and the same park today.
Summarise the information by selecting and reporting the main features, and make comparisons where relevant.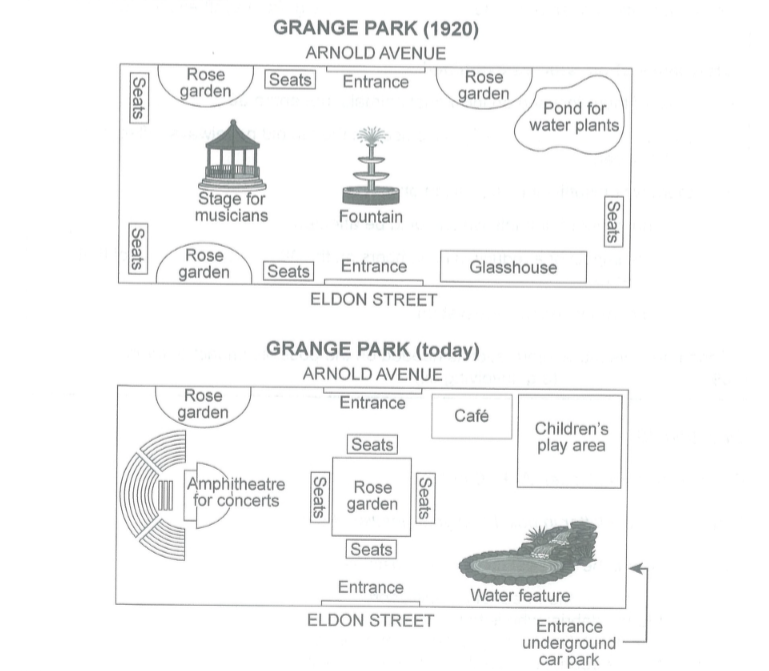 Band 7 Answer (The plans below show a public park)
The maps depict the development which took place in the Grange Park from 1920 till today. Overall, a great number of adjustments can be detected in the maps, but the park retains the basic elements it had.
Notably, the access to the park has remained the same, but there has been constructed an entrance for an underground car park on the east side. In the northeast part of the park, in 1920. there were a rose garden and a pond for water plants, which today have been replaced by a cafe and a playground. In the south-east, the glasshouse and seats have been removed to make way for the development of a water feature. Whereas on the other side of the entrance, the rose garden and the seats have been removed, too.
In the center of the park, the fountain that was there has been converted into a rose garden surrounded by seats. Simultaneously, an amphitheater for concerts has been erected in the place of the stage for musicians at the west. and all the seats nearby have been removed too. However, the rose garden of the northwest side has not been destroyed.