Band 7 Writing Task– 1
The tables below give information about sales of Fair-trade*-labelled coffee and bananas in 1999 and 2004 in five European countries.
Summarise the information by selecting and reporting the main features, and make comparisons where relevant.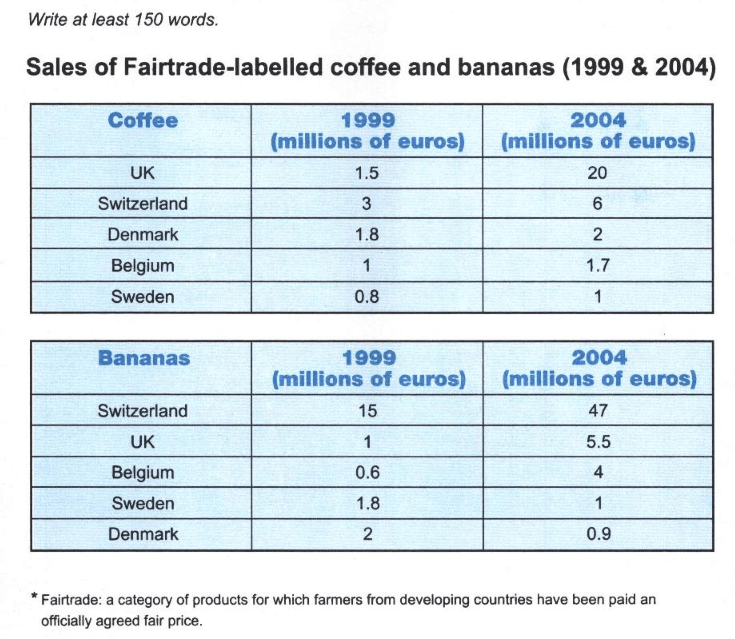 The provided tables compare the turnovers of Fairtrade coffee and bananas in five European nations for two specific years, 1999 and 2004.
A glance at the first table reveals that coffee sales witnessed a rise in all countries in 2004, with the UK having the most significant growth, whereas the second table demonstrates that bananas didn't follow the same pattern, as three countries experienced a surge in sales whereas the other two experienced decline for the same period.
Particularly, in the UK coffee sales rocketed from 1.5 million euros in 1999 to 20 million in 2004. Simultaneously, Switzerland's revenues as regards coffee, grew by 50%, starting from 3 million in 1999 and reaching at 6 million in 2004. Interestingly, Denmark and Sweden witnessed only a small rise of 200.000 euros each, while Belgium's sales went up by 0.7 million from 1 million in 1999.
Regarding bananas sales, Switzerland had the highest number of sales among the other nations and experienced a three times surge from 15 million in 1999 to 47 million euros in 2004. The UK and Belgium saw a slight increase in turnouts too, but Sweden and Denmark recorded a fall in the revenues of bananas.
(193 words)